Santa Claus Finally Gets a Boyfriend in Norway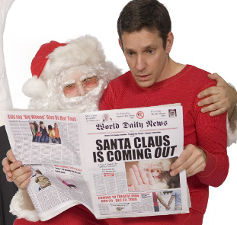 Norway's 375-year-old postal service, Posten Norge, this week has released a festive commercial ahead of the holiday season with Santa Claus getting a boyfriend.
Norway, the nearest and first stop of Santa's December world tour, revealed in an advertisement that the old elf is not only jolly but also gay. Santa may not just be a bringer of toys to the tots, but also a seeker of a kiss under the mistletoe with a man. While this may disturb many straights, the kids won't mind as long as they get their toys, and truth be told the Santa myth has undergone many changes over the years. In the life times of many reading this, his twelve flying reindeer team was increased by one with a red nose. Additionally, his coming down the chimney is now underplayed since most children have never seen an actual wood or coal burning fireplace.
All myths, social, religious, and secular undergo changes to keep up with the times, and if Santa is now gay, no matter as long as his Norwegian romance does not delay his getting all those gifts delivered to the children. (For the full Santa gay kiss, click on When Harry Met Santa.