50K NBA Fine for Homophobic Remarks.
Posted by Ron
Wednesday, September 14th 2022 @ 08:41:51 AM EST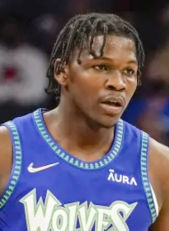 When Anthony Edwards (See photo at left..)of the Minnesota Timberwolves rolled down his car window and called a group of shirtless men "queer," those in the car laughed with him. Edwards' laugh turned sour when he realized the NBA could fine him $50,000 for his inappropriate remark.
On Sunday Edwards was apologizing with gusto and apparent sincerity calling his remark immature, hurtful, and disrespectful.
It is truly amazing how a possible 50K fine can shut up homophobic remarks from athletes. Now to find a way to shut up the ugly rhetoric of politicians and religious nut wings.