Gay NFL Player Goes Back to Tampa
Posted by Ron
Wednesday, August 17th 2022 @ 10:07:53 AM EST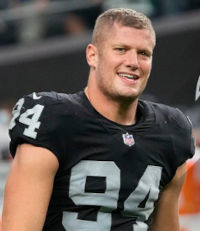 NBCNEWS: The Tampa Bay Buccaneers signed defensive end Carl Nassib, pro football's first openly gay, active player, bringing him back to where he delivered two of his most productive seasons, officials said Tuesday.
Nassib, then of the Las Vegas Raiders, came out a little more than a year ago and made one of the NFL's most memorable early season plays, sacking the Baltimore Ravens' Lamar Jackson and forcing a fumble in a dramatic Monday Night Football victory for the Silver & Black.
+ + +
Ron: Florida does not want people to say gay, but they don't mind if gay sportsmen play. I thought this would be interesting to sports fans and to all as it shows the continued progress of gay people in all levels of society in spite of opposition from the far right political and religious conservatives.