Netflix: "Pray Away the Gay" Film
Posted by Ron
Thursday, August 5th 2021 @ 10:12:26 AM EST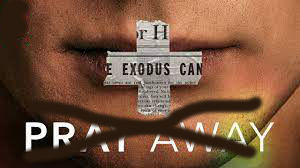 NBC NEWS: When American documentarian Kristine Stolakis set out to make her debut feature film, she knew she wanted to shine a light on the 'ex-gay' movement, which consists of those that believe a person's gender identity or sexual orientation can be changed.
The result was the creation of a 100-minute documentary called "Pray Away," which has received rave reviews from critics and debuts this week on Netflix. Shot before the Covid-19 pandemic, the film chronicles the rise and subsequent fall of Exodus International, a conversion therapy organization that, according to the team behind the the film, began as a Bible study group in the 1970s consisting of five evangelical men who were looking to help one another leave the "homosexual lifestyle."
But years after rising to stardom in the religious right, many of these "ex-gay" leaders, whose own same-sex attractions never went away, have since come out as LGBTQ and disavowed the very movement that they helped to grow.
To see a Youtube Preview, click on Pray Away the Gay