UK Islamic School Has Violently Anti-gay Book
Posted by Ron
Friday, July 23rd 2021 @ 11:34:55 AM EST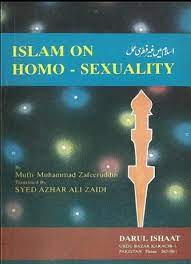 Leaders of a Muslim boarding school "undermined British values" by allowing its library to stock a book calling for homosexual people to be punished.
The book, Islam on Homosexuality, was found by Ofsted during a visit to the Islamic Institute of Education. Ofsted said it included "inappropriate content" unsuitable for pupils.
The Dewsbury-based school said all books in its library were now consistent with its "unequivocal commitment to British values." Excerpts from the text, which had been stamped as an official library book by the school, included sections on punishments of individuals because of their sexuality.
The report noted: "There is also a paragraph in the book entitled 'putting to death.' In this paragraph there is a statement '...the evil doers should be put to death'." (For the complete article, Click Here.)