Nearly One in Ten Teens Identify as Gender-Diverse
Posted by Ron
Saturday, May 29th 2021 @ 02:15:38 PM EST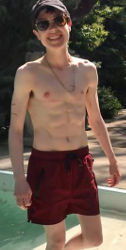 NBC NEWS:The number of young people who are gender-diverse, including transgender, nonbinary and genderqueer, may be significantly higher than previously thought, according to a new study. Researchers in Pittsburgh found that nearly 1 in 10 students in over a dozen public high schools identified as gender-diverse, five times the current national estimates. Gender diversity refers to people whose gender identities or gender expressions differ from the sexes they were assigned at birth, according to the American Psychological Association. (At Left: Oscar nominee Ellen Page, now Elliot Page showing off his new body in swim shorts, following "top surgery.")
In a report published this week in the journal Pediatrics, researchers from the University of Pittsburgh Graduate School of Public Health, Children's Hospital of Pittsburgh, Seattle Children's Hospital, the Harvard T.H. Chan School of Public Health and the UCLA School of Medicine analyzed 3,168 student surveys culled from 13 Pittsburgh high schools.
In all, 291 participants, or 9.2 percent, reported incongruities between their sexes assigned at birth and their experienced gender identities. Of those gender-diverse youths, about 30 percent expressed transmasculine identities and about 39 percent expressed transfeminine identities. People with nonbinary identities were about 31 percent of the total.
The overall figure is vastly higher than the roughly 2 percent cited in most national estimates. (For the full article, Click Here.)
Ron: Dr. McKinsey's Mid-Twentieth Century estimation of 10% of people being gay is looking more realistic as more and more people are willing to tell the truth about their sexual preferences.