Olympian Adam Rippon Engaged to Finland Boyfriend
Posted by Ron
Tuesday, February 16th 2021 @ 09:10:18 AM EST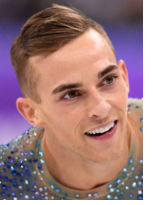 NBC NEWS: Former Olympic figure skater Adam Rippon who won a bronze medal at the 2018 Pyeongchang Winter Olympics, announced Wednesday on Instagram that he and his longtime boyfriend, Jussi-Pekka Kajaala, got engaged in December in Kajaala's native Finland. Said Rippon. Said Rippon:
"JP and I didn't get to see each other for almost all of 2020 because of the pandemic. When there was finally a chance for me to go and see him in Finland, I jumped at it."
Rippon said he was in Finland for a little over two months, and while he was there, he and Kajaala visited the Finnish forest, shared jokes and worked on the cottage Kajaala is building. (To read more of this heart warming gay love story, Click Here.