Biben Calls for complete Gay Rights
Posted by Ron
Saturday, January 23rd 2021 @ 07:22:31 AM EST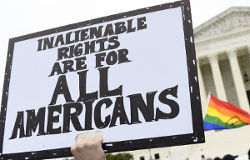 The Washington Post: "On his first day in office, President Biden issued a sweeping executive order making it clear that gay and transgender people are protected against discrimination in schools, health care, the workplace and other realms of American life.
The executive order outlines a broad interpretation of last year's landmark Supreme Court ruling that gay and transgender employees are covered by Title VII of the Civil Rights Act of 1964, which prohibits discrimination 'because of sex.' The Trump administration had interpreted that decision in
Bostock v. Clayton County, Ga.
, narrowly and only applying to employment. Biden's order calls on agencies across the federal government to review existing regulations and policies that prohibit sex discrimination, and to revise them as necessary to clarify that 'sex' includes sexual orientation and gender identity."
Ron:
It is to be remembered that it a was Vice President Biden who came out for gay marriage before President Obama did. Naturally, this latest gay support caused the conservatives to be p....d. Read the complete article by
Clicking Here.