A Surge of Gay People are Now Elected to Office
Posted by Ron
Monday, July 27th 2020 @ 07:47:26 AM EST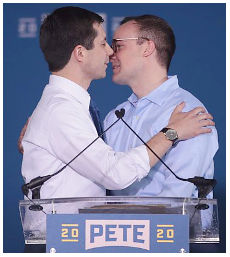 (From NBC News:) At least 843 LGBTQ people currently serve in elected offices across the United States, constituting a 21 percent increase since June 2019, according to the LGBTQ Victory Institute's "Out for America 2020" census of lesbian, gay, bisexual, transgender and queer elected officials.
(At Left: Pete Buttigieg. Although he dropped our of the race, who would ever have thought twenty years ago a gay man, married to a man, would be able to run for US President?)
Particularly pronounced increases were seen in the number of LGBTQ mayors, with a 35 percent year-over-year jump; the number of bisexual and queer-identified people, with increases of 53 percent and 71 percent, respectively; and the number of transgender women serving in elected office, with a 40 percent year-over-year rise.
Much of this increase was driven by what Victory called a "rainbow wave," a surge in LGBTQ wins in the 2018 and 2019 elections. Victory hopes that 2020 will usher even more LGBTQ people into elected office. (For the complete article, Click Here.)