Have there been Gay US Presidents?
Posted by Ron
Thursday, December 5th 2019 @ 07:01:40 AM EST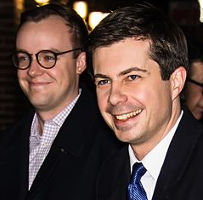 It seems almost surreal that Pete Buttigieg, a young gay man with a husband (Chasten Glezman) is running in fourth place among Democrats trying to be the next US President.
When questioned in an interview about being the first gay president, he replied that there had been others, but he fail to suggest which ones. (At Left: Pete and husband.)
It has been widely believed now and in his presidency that the most obvious gay president was James Buchanan (term in office 1857 -1861). He is also often listed as among the worst, which explains Mayor Pete's not calling him by name. Buchanan never married and had so close a friend, William Rufus DeVane King, that congressmen referred to them as a married couple. Buchanan was followed by Abraham Lincoln who shared a bed with a man in a boarding house for several years. Apparently, poet Walt Whitman's gaydar bells rang when he once saw Lincoln on the streets. Then there is that questionable relationship between young George Washington with Lord Fairfax who never married and surrounded himself with handsome young men.
For the full story and a film clip on Pete Buttigieg's interview, Click Here.