Another Gay Scam
Posted by: Ron @ Friday, October 18th 2019 @ 06:35:59 AM EST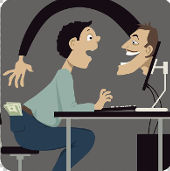 To Ron:
Not sure if you have heard about a new scam being run but I just got an email stating I was hacked through a porn web site. They said they had by passed the malware and other tech stuff basically saying they had used my camera to record me pleasuring myself and had made a video of it with that on one side and what I was watching on the other.
They then say I had 48 hrs to send 500 bitcoin to there account or they were going to release it to all my contacts and if I shared the video with anyone that would release it as well. Now of course I hit reply and wrote "go ahead and send it out everyone knows I'm gay, single so of course I watch porn."
From Ron: I can't believe that evil people are still sending out such crappy spams, but you are right in thinking they will worry some people. How to deal with Spam and Scams: Find your Delete Key and use is often. While I admire the big balls of the above Apollo Man, it's best not to reply as it confirms your email. There is a special place in Dante's Hell for these people. Let's hope they are caught and made to suffer first in this life time.
| | | |
| --- | --- | --- |
| | | |
Copyright 1997-2020 Apolloworld LLC