Hockey Butt Pants in Hot Ad
Posted by: Ron @ Sunday, October 13th 2019 @ 09:37:21 AM EST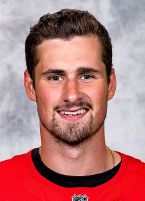 State and Liberty Clothing has a new line of stretch pants that, according to ads, are perfect for the large muscular bodies and big butts of professional hockey players. To speak for the pants and show off his hockey body and butt, Detroit Wings player Dylan Larkin has a film clip that has inflamed, both good and bad, the gay hockey/body watchers. Larkins is a great talker and salesman, but when he starts showing his well built body, crotch, and perfect ass, who's listening? (
At Left:
Dylan Larkin, hockey player.)
While many gay viewers are wondering where to click to see more ads, the purists among us are crying foul (or is it a penalty?) Their complaint says the ad is queer baiting and exploiting gay people. What a crock. They don't think that Abercrombie and Finch hasn't been doing this for over twenty years? In fact, maybe 90% of all advertisement ring with some sexuality. You never see an 80 year old women brushing her teeth and promoting Colgate's tooth paste or a 75 year old man in a bathing suit selling Spandex.
We older gay people have lived most of our lives without seeing gay people in the movies or on television, much less in commercials. If we demand equality in all areas of society, then taking our knocks by the "Mad Men" of advertising is part of. For me I will sit back, smile and enjoying the openness of our success. Here's the full article where you can find and the ad to click on and enjoy by Clicking Here.
| | | |
| --- | --- | --- |
| | | |
Copyright 1997-2020 Apolloworld LLC