The Devil Wares Prada in Elton John Play
Posted by: Ron @ Wednesday, September 18th 2019 @ 05:31:48 PM EST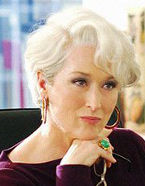 From The Advocate:
A million girls would kill to star in a musical adaptation of The Devil Wears Prada, and now they may have their chance. (At Left: The devilish and wonderful Meryl Streep.)
The latest iteration of the novel by Lauren Weisberger, which was adapted into a 2006 film starring Meryl Streep, Anne Hathaway, and Emily Blunt, will be a musical staged in Chicago.
The long-gestating production will run from July 14 until August 17, 2020 at the James M. Nederlander Theatre, reports the Chicago Tribune. Tickets go on sale October 6.
The musical will be directed by Anna D. Shapiro, with music supervision provided by Nadia DiGiallonardo. The book is by Paul Rudnick, and fresh from his hit musical film Rocketman, Elton John will be providing music with lyrics by Shaina Taub. (For more information Click Here.)
Copyright 1997-2020 Apolloworld LLC