Malaysia Censors Gay Sex Scenes of Elton John New Film
Posted by: Ron @ Sunday, September 8th 2019 @ 10:15:13 AM EST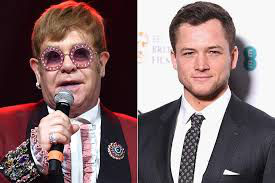 KUALA LUMPUR:
"Malaysia has censored gay sex scenes in "Rocketman," the movie musical based on the life of British singer Elton John, sparking condemnation from art critics on that the country was becoming a "nanny state." (
At left:
Elton John and actor Taron Egerton playing Elton in the film.)
Film buffs in the Southeast Asian country also took to social media to post criticism of the cuts, which included scenes depicting gay sex and men kissing, after "Rocketman" was released in Malaysian cinemas last week.
"We do not allow any scenes that promote LGBTQ in films that are for public viewing," Safaruddin Mohammad Ali, who heads Malaysi's Film Censorship Board's films unit, told the Thomson Reuters Foundation by phone.
"Although it is about the real life of Elton John, it is not for him to allow the public to see whatever he does or whatever activities he indulges in that is not our culture."
Sodomy is a crime punishable by up to 20 years imprisonment in Malaysia, a Muslim-majority country of 32 million which is also home to a large number of other religious minorities. (To read the complete article and see a film clip, Click Here.)
| | | |
| --- | --- | --- |
| | | |
Copyright 1997-2020 Apolloworld LLC