The Fight to Teach Gay History in Schools
Posted by: Ron @ Monday, May 13th 2019 @ 06:29:54 AM EST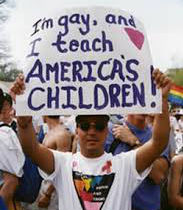 "Rocklin, California has been in the news for some anti-LGBTQ activism by those who object to a new state-mandated inclusive public school curriculum, but there's some support for LGBTQ youth in the area as well.
In a May 1 meeting that went past midnight, the Rocklin Unified School District board adopted a curriculum that complies with California's Fair, Accurate, Inclusive, and Respectful Education Act, which requires public schools to teach about the contributions of LGBTQ figures, along with those of other historically marginalized groups, starting in second grade. For example, one book in the curriculum states that Sally Ride was the first woman and first lesbian astronaut.
The meeting was marked by intense debate, with many parents contending the information was being given to children who were too young to understand the concepts of sexual orientation and gender identity, although, as one attendee at the meeting pointed out, "Sexuality is already taught to students when textbooks say that John F. Kennedy is married to Jackie Kennedy." And there were those who objected to LGBTQ inclusion at all. The board had little leeway in acting on the curriculum, as it has to follow state law, although there were a few iterations it could choose. But some parents in the Northern California town, in Placer County near Sacramento, were so incensed by the move that they protested by keeping their children out of school May 3. (To Read More, Click Here.)
| | | |
| --- | --- | --- |
| | | |
Copyright 1997-2019 Apolloworld LLC