TIME Mag Cover of Gay Presidential Candidate
Posted by: Ron @ Saturday, May 4th 2019 @ 03:24:47 PM EST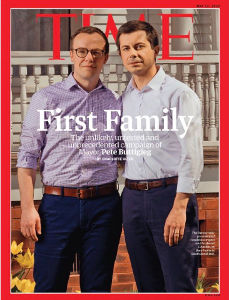 TIME: "In a field of more than 20 candidates (including six Senators, four Congressmen, two governors and a former Vice President) Pete Buttigieg (pronounced Boot-edge-edge) has vaulted from near total obscurity toward the front of the Democratic pack, running ahead of or even with more established candidates and behind only Joe Biden. The 37-year-old mayor of South Bend, Ind. is a gay Episcopalian veteran in a party torn between identity and heartland appeals. He's also a fresh face in a year when the millennials are poised to become the largest eligible voting bloc. His platform is "Freedom, Security and Democracy," which wouldn't sound out of place coming from a Bush-era Republican yet actually harks back to Franklin Delano Roosevelt."
Read full article in TIME Mag. by clicking Here.
Copyright 1997-2019 Apolloworld LLC