CNN Newsman Don Lemon Engaged to Boyfriend
Posted by: Ron @ Friday, April 19th 2019 @ 08:13:26 AM EST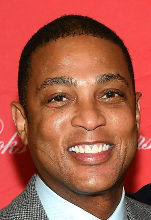 Don Lemon, outstanding CNN Newscaster and major pain in the current US President's butt, proposed to his boy friend, Tim Malone, in an amusing fashion. (Check it out in the story below.)
If you haven't seen Lemon's newscast (maybe like me, you don't get cable TV), you can see some of his best work on YouTube. The first time I saw him in action, I couldn't believe his intelligence, wit, and cut to the point tactics. I wondered where did this gay chap come from. I never saw his likeness in the segregated South where I grew up.
Don Lemon was born, raised, and educated in Louisiana. After several years with NBC, he move to CNN in 2006 where he was working when he came out as gay.
You have to marvel that TV has three outstanding gay broadcasting people including Don Lemon, Anderson Cooper, and Rachel Maddow. Now with a gay Presidential Candidate, it looks as if the USA is slowly creeping into the 21st Century.
For the article on Lemon's engagement (with photos), Click On.
Copyright 1997-2019 Apolloworld LLC