60 Photos of Men in Nature
Posted by: Ron @ Saturday, March 16th 2019 @ 07:08:41 AM EST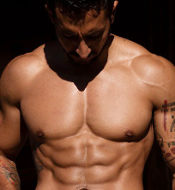 Photographer Ross Spirou has lived in Melbourne,Australia, most of his 56 years. His first photographs were of nature, but then he started including men in his photo, nude men. In his own words:
"At the age of eighteen, I bought my first camera and studied photography for six month.
Around ten years ago, I did my first art nude shoot and photographing men has become a real passion. I love capturing male beauty, sexiness, sexuality, sensuality." To see 60 Photos of men in Nature,
Click Here.
Copyright 1997-2019 Apolloworld LLC