Rare Gay Photos of Arab Men
Posted by Ron
Thursday, January 31st 2019 @ 06:54:11 AM EST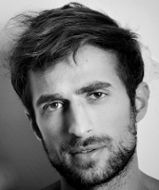 Because of the current Islamic antiquated view and persecuting actions of gay people, we seldom get photos of Arab nudity. Photographer Munir Abdullah has set about correcting this problem with a collection of 41 rare Gay Erotic Photographs of Arab men.
Although this collection may not be as revealing of the male body as is routine found in photos of Western European men, the Americans, or Australia, that they exit at all is nothing sort of amazing.
To check out this collection, Click Here.