Shirtless Pix of Palm Springs Pride
Posted by: Ron @ Wednesday, November 14th 2018 @ 06:20:09 AM EST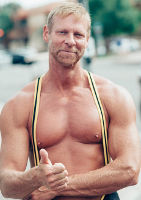 The Palm Spring Gay Pride event outdid itself this year, and photographer Tommy Wu was there to capture an extended scope of gay people representing a wide diversity in the their tastes and persona. Some may not be to everyone's taste, but we have finally reached a level in the US where people can both show and explore who they are.
I hope we can have have a discussion on the Apollo Forums on how far gay people have come out of the closet in this century. Certainly, gay people are in a celebratory stage which may settle down in the years to come, but one thing is for sure: There's no going to to that cramped and uncomfortable closet whence we came.
I have to wonder where the forerunners of all these gay people were when I was in high school thinking I was in a very small group of people that were somehow twisted in mind and sex. Thank the fates that those days are over. To see and enjoy these 111 photos by Tommy Wu, Click Here.
Copyright 1997-2019 Apolloworld LLC