Big US Election Wins for Gay Candidates and Causes
Posted by: Ron @ Wednesday, November 7th 2018 @ 08:29:22 AM EST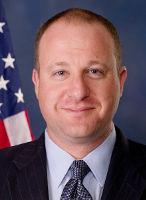 While the Democrats were taking control of the US House of Representative in the Mid-Term Elections, gay Candidates were making political wins of their own.
1. Jared Polis (see left) won his race for governor of Colorado, becoming the first out gay man to be elected governor of any U.S. state.
2. Oregon's Kate Brown, who, during a 2016 special election, became the nation's first out person elected governor, was reelected on Tuesday night defeating her male opponent. Brown and Jared Polis are the country's two out governors.
3. Not only did Democrat Sharice Davids unseat Republican incumbent, but she also made history becoming Kansas's first LGBTQ member of Congress and the first Native American woman elected to Congress.
4. Tammy Baldwin, fending off a Republican challenger bankrolled by the Koch brothers, was the first out lesbian and openly LGBT person to win re-election to the US Senate. The wealthy Koch brothers poured at least $10 million to defeat Baldwin, but Tammy prevailed against GOP state senator and the Koch brothers' millions.
5. Elwood Caudill, Jr. (Democrat) in Kentucky defeated Kim Davis. She was the clerk of Rowan County, Ky., who famously went to jail in 2015 rather than issue marriage licenses to same-sex couples. Bye-bye, Kim Davis. We won't miss you.
| | | |
| --- | --- | --- |
| | | |
Copyright 1997-2019 Apolloworld LLC