62 Photos of Male Mythology, Archetypes, and Fantasies
Posted by: Ron @ Thursday, September 13th 2018 @ 06:52:10 AM EST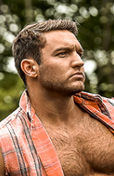 .
Photographer Peter Grant has a persuaded 62 men to pose before his camera lens and submit to his creative way of seeing and thinking about men. You may not like all his models, but some are sure to hit the mark.
To see this collection, Click Here.
.
Copyright 1997-2019 Apolloworld LLC