Australian Soap "Neighbours" Aired Its First Gay Wedding
Posted by: Ron @ Wednesday, September 5th 2018 @ 06:42:11 AM EST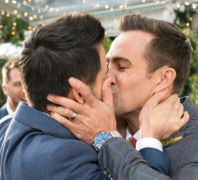 The long running and beloved Australian soap, Neighbours, has just made history after airing its first same-sex wedding.
Aaron (Matt Wilson) and David (Takaya Honda) tied the knot in an intimate ceremony officiated by comedian, Magda Szubanski. In its 33 years on air, Neighbours has had 42 weddings which are always momentous viewing occasions. The wedding of Kylie Minogue's character, Charlene, to Scott in 1987 got about 20 million viewers in the UK alone.
Neighbours has broken ground on LGBTI issues in the past year. Earlier this year, it aired its first gay sex scene after airing the first same-sex in 2012.
The historic wedding was described as the wedding of the year and comes just months after Australia finally legalized same-sex marriage.
Copyright 1997-2019 Apolloworld LLC