How to Stick it to a Bigot
Posted by: Ron @ Sunday, April 29th 2018 @ 10:06:58 AM EST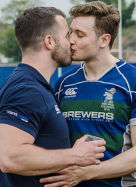 From "Gay Times:" Earlier this month, Australian rugby star Israel Folau caused outrage when he suggested that gay people would end up in "hell" unless they "repent of their sins and turn to God" in a now-deleted Instagram comment.
Despite his comments appearing to break Rugby Australia's inclusion policy, the sports organisation decided against imposing a sanction on him, but that hasn't stopped LGBTQ people and their allies from speaking out against his homophobia.
One of those people speaking their mind is former bobsledder Simon Dunn, who recently shared a photo of a 'victory kiss' with his partner Felix on social media. The two play together on gay-inclusive London rugby club the Kings Cross Steelers.
Copyright 1997-2020 Apolloworld LLC