Granny, I am still Marrying Meghan but Guess What?
Posted by: Ron @ Monday, April 23rd 2018 @ 06:35:34 AM EST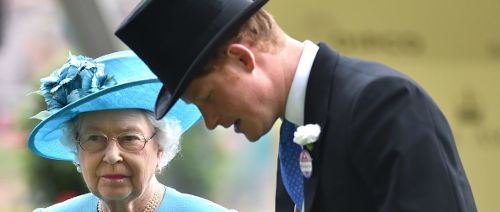 (From Ron: We just return from the UK last night after our first two week vacation in 16 years. Everywhere we turned we saw photos of Prince Harry and his American bride to be. Their faces stared at passersby on coffee mugs and lunch boxes. I thought I would re-post the following article showing England's acceptance of same sex marriage. PS give me a day or so to catch up on my email and sleep from jet lag. May 16th.)
"66 percent of Brits would not mind a royal same-sex wedding." Actually, we don't know if the royal prince told Her Majesty this information, but a recent poll showed that the realm of Queen Elizabeth is overwhelmingly supportive of a same sex marriage even among their royal family.
From PinkNews: "The survey of 1,681 people, published on Friday, records the "biggest shift" in public opinion regarding same-sex marriage in the last 40 years, according to Ipsos Mori chief executive Ben Page.
73 percent of respondents said they did not object to same-sex marriage in general, although 8 percent still think it should be banned, and 13 percent disapprove of it but do not wish to ban it.
However, the poll shows that people are more concerned about a same-sex union than other types of marriages, such as marrying someone from a different ethnic background or a divorcee.
Only 6 percent of people would ban or disapprove of interracial marriages, 5 percent would ban or disapprove of marriage between people of different religion, and 4 percent would ban or disapprove of divorcees remarrying."
| | | |
| --- | --- | --- |
| | | |
Copyright 1997-2020 Apolloworld LLC