The Good Old Days of Semi-nude Wrestlers
Posted by: Ron @ Saturday, March 24th 2018 @ 08:08:23 AM EST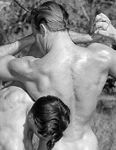 I remember high school days at the drug store magazine rake furtively glancing at black and white magazines of wrestlers wearing nothing but a jock strap that scarcely hid the bulge under it. They were probably padded, but at the time it looked like the real thing. Certainly the muscular bodies were real and their play fighting was as about erotic and close to the real thing as a young teenager could hope to view.
For a trip down memory lane with over thirty photos of classic muscle men, Click Here.
Copyright 1997-2020 Apolloworld LLC