What is it about a Hairy Chest?
Posted by: Ron @ Friday, March 9th 2018 @ 06:06:52 AM EST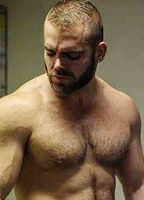 How often we have heard the words, "He's a real man with hairy on his chest. Hairy men turn me on."
Intelligence tells us that hair has nothing to do with masculinity. Many famous body builders have no chest heair. (But then being a body builder not a gurentee of masculinity.) Also, we know that many men prefer to hairless men while other shave both their chests and their pubes.
If you are into hairy chested men, here is a collection of over 80 photos of masculine men strutting their stuff. To see them, Click Here.
Copyright 1997-2020 Apolloworld LLC