Men loving Men Photos
Posted by: Ron @ Wednesday, February 14th 2018 @ 07:25:30 AM EST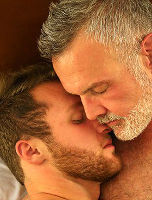 Happy Valentines Month!
What better way to enjoy the season than looking at a collection of photos of men loving men? Those of us who came to terms with being gay way back in the last century remember peeking at nudist magazines on the news-stands and in the local drug stores. There were usually naked women in those pictures, but our eyes and hearts blocked them out.
What could be more marvelous than viewing a male nude in our green years of sexual development? We could not dream of or imagine that a time like these days would come when we could, not only look at nude men but also enjoy photos of them kissing and making love.
To enjoy the following photos of couples showing their passionate affection for each other, Click Here.
Copyright 1997-2020 Apolloworld LLC