Gay Actors in Trans Roles?
Posted by Ron
Friday, September 2nd 2016 @ 07:02:36 AM EST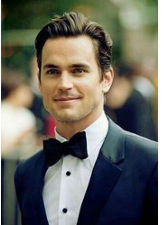 Actor Matt Bomer has been cast to play a transgender woman in an upcoming movie entitled Anything, causing some in the gay community great ire and generating hot debate. One opponent complained that Hollywood needs to rethink its putting a male actor in a dress, wig, and makeup. They argue that those things do not qualify him to portray a transgender woman.
For those playing catch up on the trans actor/actress scene, two years ago TIME Magazine did a cover story of actress Laverne Cox (born a male) who achieving fame and awards on Netflix's series "Orange is the New Black. TIME declared trans people had reached a "tipping point" and the issue was now decided in their favor. (Except in those areas that drag decades behind in social issues.)
Matt Bomer's playing a trans person is no new thing. Last year Oscar Winner Eddie Redmayne was nominated for playing a trans women in "The Danish Woman." Other actors have argue what we all know, namely that an actor acts and that he or she can play any kind of human being without actually being a murderer, mentally disable, or a cannibal.
We can can't settle this issue here, but it is worth noting that not so long ago, the issues would have been that Matt Bomer is gay, married to a man, and has three adopted children. There is only one certainty in life: Change.