Gay Acceptance passed the 50% in US
Posted by: Ron @ Monday, January 16th 2012 @ 09:27:48 AM EST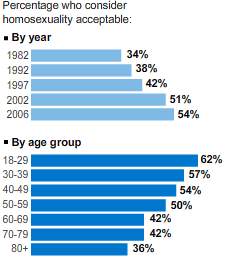 The USA Today published chart at right showing gay acceptance by year and age group is amazing in light of the current political anti gay rhetoric. Three years ago (during the last presidential election) gay acceptance had already reached 54% approval.
The chart also shows gay acceptance by age and reveals that people in the 50 to 59 age bracket accept gay people at 50%. Those under 30 show an acceptance rate of 62%. As the younger generation grows older, the gay acceptance rate will be higher.
The top chart shows how acceptance of gay people has increased in the last 30 years. It is not a coincidence that the chart began to spike with the use of the Internet. An increase of information and exposure to a variety of people produces a tolerance that both informs and enlightens people, the only exception being those politicians whose self interest keeps their minds closed.
Copyright 1997-2017 Apolloworld LLC