What are Sodomy Laws in Your Area?
Posted by Ron
Wednesday, April 21st 2021 @ 08:50:43 AM EST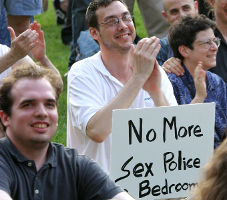 Nearly 20 years after the Supreme Court struck down laws criminalizing consensual same-sex activity, the legacy of sodomy bans is still felt across the United States.
In 1993, then-18-year-old Randall Menges was charged under Idaho's "crimes against nature" law for having sex with two 16-year-old males. All three worked and lived at Pratt Ranch, a cattle ranch in Gem County that doubled as a live-in foster program for troubled teenagers.
Menges was convicted despite police reports indicating the activity was consensual, and the age of consent in Idaho when a defendant is 18 years old. After serving seven years in prison, he was placed on probation and required to register as a sex offender.
Today, what Menges did wouldn't be considered an arrestable offense. The U.S. Supreme Court ruled in 2003 that laws criminalizing consensual sodomy or oral sex were unconstitutional. But Idaho still requires people convicted of sodomy or oral sex before the Lawrence v. Texas ruling to be on the state sex offender registry.
His attorney, Matt Strugar, has challenged a similar statue in Mississippi and is representing Menges and a John Doe in a suit against Idaho's sodomy ban. (To read the full article, Click Here.