Religious Membership in Free Fall
Posted by Ron
Saturday, April 3rd 2021 @ 11:30:45 AM EST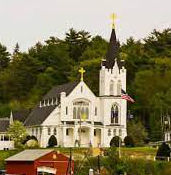 (
Ron:
We are in a religious seasons for both Christians and Jews, but the following article shows a steep decline in support of organized religion.)
The trend of Americans exiting the pews, never to return, has been steady for some years now and shows no signs of slowing down. According to a new Gallup poll released this week, only 47% of Americans polled in 2020 belong to a house of worship, which is the first time that number has fallen below half of the country since they started polling Americans on this question. (At left:) One of many churches for sale after the congregation abandoned the building.)
But what's really interesting is that the collapse in church membership has happened mostly over the past two decades. Since Gallup started recording these numbers decades ago, church membership rates were relatively steady, with only the smallest decline over the decades. In 1937, 73% of Americans belong to a church. In 1975, it was 71%. In 1999, it was 70%. But since then, the church membership rate has fallen by a whopping 23 percentage points.
It is not, however, because of some great atheist revival across the land, with Americans suddenly burying themselves in the philosophical discourse about the unlikeliness of the existence of a higher power. The percentage of Americans who identify as atheist (4%) or agnostic (5%) has risen slightly, but not even close to enough to account for the number of people who claim no religious affiliation. (For the complete article Click Here.)