Gay Congressman to chair the Democratic Campaign Committee
Posted by Ron
Monday, December 7th 2020 @ 11:17:49 AM EST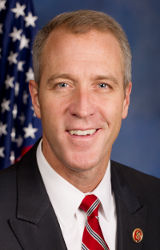 Democrats picked Rep. Sean Patrick Maloney on Thursday to lead their campaign organization into the 2022 elections. Maloney, who in 2013 became the first openly gay member of Congress from New York, will now become the first LGBTQ person to chair the Democratic Congressional Campaign Committee, which helps to recruit House candidates, raise money and provide campaign guidance.
"I'm honored and humbled to earn the trust of my colleagues to lead the @DCCC at this pivotal moment in history," Maloney, who won his fifth term last month, wrote on Twitter. "Now, it's time for House Democrats to unite and go forward together. We need a unified front to win in 2022. We will protect this majority for the people."
Maloney, 54, is one of seven openly LGBTQ people serving in the House of Representatives and one of nine in both the House and Senate. Next month, when the new congressional session starts, the current nine will increase to a record 11, when incoming Mondaire Jones and Ritchie Torres, both openly gay Black Democrats from New York, assume office.
Maloney is married to Randy Florke, and they have three interracial children. (To read the full article Click Here.)