Gay Asian Defeats Proud Boy in Hawaiian Election
Posted by Ron
Tuesday, November 10th 2020 @ 06:58:13 AM EST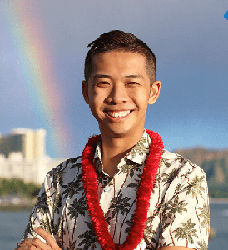 Adrian Tam, a 28-year-old gay Asian American son of immigrants, defeated a leader of the Hawaii chapter of the Proud Boys, a far-right extremist group, to become the only openly LGBTQ person in Hawaii's Legislature.
Tam, a first-time candidate, took 63 percent of the vote against Nicholas Ochs.
"It feels really good to know that someone who is openly LGBT can win," Tam told NBC Asian America. "There was a time when people like me could not win. I'm glad that I can bring that representation to the capital."
Tam described what was a nerve-wracking election season, from trying to connect with voters amid coronavirus, to narrowly taking down longtime incumbent Tom Brower in the August Democratic primary, to facing an overwhelming amount of hate from Ochs and his supporters in the general election.
"It's almost to a harassment level," Tam said, noting that Ochs' supporters bombarded his campaign's social media to the point where the messages from his own voters were drowned out. (For the full article, Click Here.)