Sarah McBride Likely to be First Transgender State Senator
Posted by Ron
Thursday, September 17th 2020 @ 11:15:31 AM EST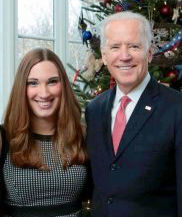 DOVER, Del. Transgender activist Sarah McBride won a Democratic state Senate primary in Delaware on Tuesday and is poised to make history as the first transgender person elected to that state's General Assembly and the first transgender state senator in the United States. (AT LEFT: McBridge with Joe Biden)
McBride defeated Joseph McCole on Tuesday to advance to the November general election. Democrats outnumber Republicans in the district by more than 3-to-1, and McBride is the heavy favorite against Republican Steve Washington in November.
McBride, who interned at the White House during President Barack Obama's administration, made history at the 2016 Democratic National Convention by becoming the first transgender person to speak at a major party convention.
If elected, McBride would join a handful of other transgender legislators around the country but would be the first transgender state senator.