World Champion Ball Player Rejects Invitation to White House
Posted by: Ron @ Thursday, November 7th 2019 @ 11:20:19 AM EST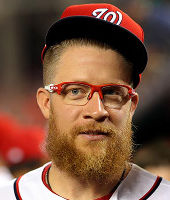 Sean Doolittle, Pitcher for the World Series Washington Nationals winners, turned down an invitation to the Trump White House for both political and supporting gay people reasons.
Said Doolittle, "There's a lot of things, policies that I disagree with, but at the end of the day, it has more to do with the divisive rhetoric and the enabling of conspiracy theories and widening the divide in this country."
He also revealed that part of the reason he refused to visit the White House was because his wife has two mothers and he wanted to "show support for them. I don't want to turn my back on them."
Ron: In the struggle for equal civil rights, we gay people must stand up for ourselves, but we can't do it without the dedicated support of straight people like Sean Doolittle who have come to see that all people are equally under God and the US Constitution.
Copyright 1997-2020 Apolloworld LLC