Patti LuPone Tells Lindsey Graham to Come Out
Posted by Ron
Tuesday, July 23rd 2019 @ 04:54:28 PM EST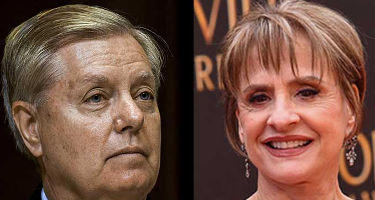 Broadway star Patti Lupone came under fire after she told Sen. Lindsey Graham (R-SC) to "come out" on Twitter.
Graham supported Donald Trump after the president made comments telling four congresswomen of color to "go home." Trump also stood in silence while a crowd of people at his rally chanted "send her back," referring to Rep. Ilhan Omar (D-MN).
LuPone tweeted: "Lindsey Graham, you are a disgrace. On a personal note, why don't you just bite the bullet and come out. You might just come to your senses."
Ron: Is there anyone who doubts the Senator from SC is not gay? He is the Liberace of politics. We can never expect a politician or a preacher to call out a hypocrite for being gay because so many of them are also gay. It takes a female diva to speak the truth to power.
On a cheerier note, take a moment to listen again to Miss LuPone's signature Broadway song by clicking on Don't Cry for Me, Argentina."