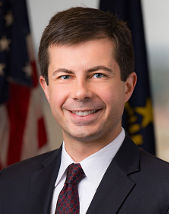 (From BBC News) "Pete Buttigieg, a little-known mayor of a modest-sized Midwest city, has become an unlikely rising star in the 2020 Democratic presidential field. How?
In just a matter of a month, this 37-year-old - who would be the youngest and the first openly gay US president - has transformed himself from long-shot to legitimate contender for the White House.
Speaking to an audience gathered to see him in Manchester, New Hampshire, he admits that his campaign has had a "really good few weeks".
"I'm mindful that this is a marathon, he says, "but we're certainly thrilled with the way our message has been resonating."
That is an understatement." To read the full article, Click Here.