Nude Bodybuilding Men in the Woods
Posted by: Ron @ Tuesday, February 26th 2019 @ 08:32:45 AM EST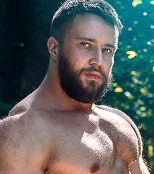 Nick Mesh has a new book, "This Morning in the Woods" where his photos of bodybuilder men give added excitement to nature's beautiful, sunny mornings in a friendly forest.
The fifteen photos speak for themselves.
Enjoy by Clicking Here.
Copyright 1997-2019 Apolloworld LLC