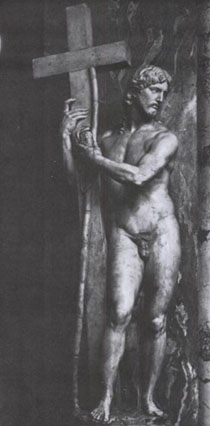 Santa Maria sopra Minerva, Rome
Original at left

ecause prudish, non-lovers of art have been unable to allow Michelangelo's statue of a nude resurrected Christ to remain as the artist intended, his genital area has been draped in a garish cloth that actually makes it more vulgar than the innocent nudity of a man.
The covering of this statue is not only an insult to one of the greatest artists in history, it also flies in the face of the actually account of the death and rising of Jesus as told in the New Testament. Romans always crucified their victim without clothes, and in the resurrection stories, it was told that his disciples found his grave cloths in an empty tomb, indicating that Jesus was the "new Adam" returned to paradise purity and nudity.